2018 Spring Journalism Contest Results – Class B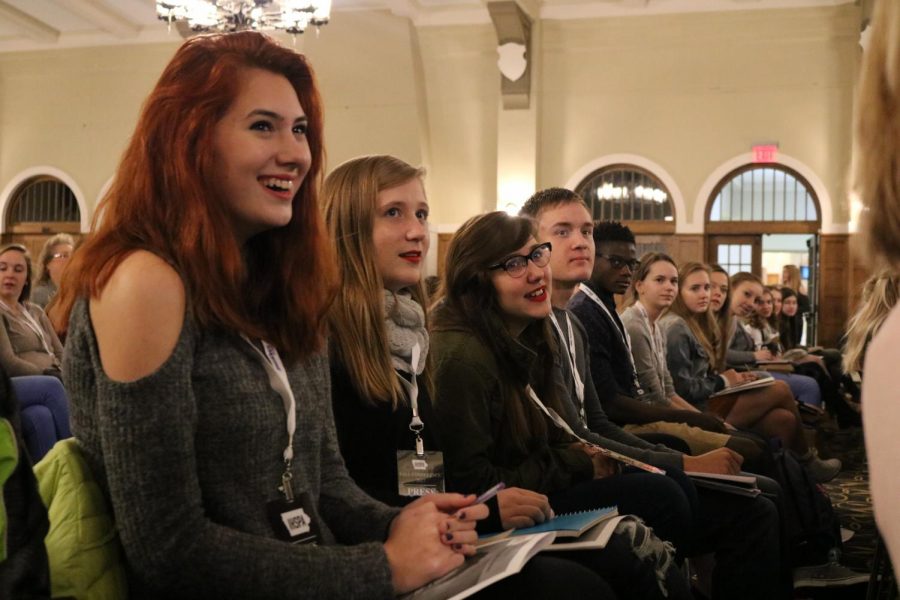 The 2018 Spring Journalism Contests have closed, and the points have been tallied.
The results for First Place, Second Place, Third Place, and Honorable Mentions for Class B publications are listed below!
Check back next week to see the News Team of the Year Finalists for all classes.
| Division | Category | Award | School | Entry Title | Publication | Credits |
| --- | --- | --- | --- | --- | --- | --- |
| Design | News Magazine - One Page Design | 1st | Abraham Lincoln HS | February 1, 2018 | Echoes | Alex Hulett, Kylee Short, Christina Beck, Sara Truong |
| Design | Illustration or Art | 1st | Cedar Falls HS | Nitrate levels photo | The Tiger Hi-Line | Sabine Martin |
| Design | Illustration or Art | 3rd | Pleasant Valley | How much more ammo do we need? | Spartan Shield | Rachel Hunt |
| Design | News Magazine - One Page Design | 3rd | Pleasant Valley | #metoo | Spartan Shield | Staff |
| Design | News Magazine - One Page Design | 2nd | Pleasant Valley | Shhh...now is not the time | Spartan Shield | Staff |
| Design | News Magazine - Multiple Page Design | 3rd | Des Moines North HS | LGBTQ Profiles | The Oracle | Mya Alexander |
| Design | Infographic | 2nd | Des Moines North HS | Like A Girl Search Bar | The Oracle | Laura Christensen |
| Design | News Magazine - Multiple Page Design | 2nd | Des Moines North HS | Valentine's Day | The Oracle | Jasmine Inthabounh |
| Design | Infographic | Honorable Mention | Des Moines North HS | Issue 2 Back Cover | The Oracle | Mya Alexander |
| Design | News Magazine - Multiple Page Design | Honorable Mention | Hoover HS | Why we need feminism | The Challenger | Irvin Hernandez |
| Design | News Magazine - One Page Design | Honorable Mention | Hoover HS | Vegan Living | The Challenger | Elizabeth Mora Huber |
| Design | Infographic | 1st | George Washington HS | Valentine's Infographics | The Surveyor | Sarah Altemeier, Jayla Johnson |
| Design | News Magazine - Multiple Page Design | 1st | George Washington HS | Fashion Phenoms | The Surveyor | Araya Dunne |
| Design | Illustration or Art | Honorable Mention | Davenport Central HS | Social Media by Shyesha Taylor | The Blackhawk | Shyesha Taylor |
| Design | Infographic | 3rd | Cedar Falls HS | Charmed | The Tiger Hi-Line | Skylar Promer |
| Design | Illustration or Art | 2nd | Cedar Falls HS | #20percentcounts | The Tiger Hi-Line | Sophia Schillinger |
| Online | Podcasting | 3rd | Cedar Falls HS | Down the Middle | The Tiger Hi-Line | Elijah White |
| Online | Video story | 3rd | Pleasant Valley | Mind over Matter series: video 2 | Spartan Shield | Staff |
| Online | Photo Slideshow | 3rd | Cedar Falls HS | State Speech | The Tiger Hi-Line | Jackson Kliewer |
| Online | Photo Slideshow | 2nd | Cedar Falls HS | Wrastlin' 2 | The Tiger Hi-Line | Jackson Kliewer |
| Online | Video story | 2nd | Cedar Falls HS | Rich Engel | The Tiger Hi-Line | Jaden Amjadi |
| Online | Multimedia story - Sports | 2nd | Cedar Falls HS | Cross Country | The Tiger Hi-Line | Jaden Amjadi, Clare Rolinger |
| Online | Multimedia story - News | 2nd | Cedar Falls HS | physics competition | The Tiger Hi-Line | Jaden Amjadi |
| Online | Social Media | 2nd | Cedar Falls HS | Tiger Hi-Line Online | The Tiger Hi-Line | Rachel Schmid, Sabine Martin |
| Online | Photo Slideshow | Honorable Mention | George Washington HS | Washington Walkout | The Surveyor | Becca Turnis, Paul Schneidermann, Aamillaya Green |
| Online | Podcasting | 2nd | George Washington HS | Dr. Carlos Grant Reflect on his Year at Wash | The Surveyor | Quinn Wilcox, Tyler McGuire |
| Online | Multimedia story - Sports | Honorable Mention | Cedar Falls HS | Soccer Updates | The Tiger Hi-Line | Claire Sabino, Jaden Amjadi |
| Online | Multimedia story - News | Honorable Mention | Cedar Falls HS | state speech | The Tiger Hi-Line | Saba Aydiner, Jackson Kliewer |
| Online | Multimedia story - Sports | 3rd | Cedar Falls HS | Wrestling | The Tiger Hi-Line | Jackson Kliewer, Tehya Tournier |
| Online | Photo Slideshow | 1st | Cedar Falls HS | Male Dance | The Tiger Hi-Line | Jackson Kliewer |
| Online | Video story | 1st | Cedar Falls HS | The Implications of School Choice | The Tiger Hi-Line | Jaden Amjadi |
| Online | Multimedia story - Sports | 1st | Cedar Falls HS | dance teams | The Tiger Hi-Line | Rachel Schmid, Jackson Kliewer, Sydney Corson |
| Online | Web Design | 1st | Cedar Falls HS | The Tiger Hi-Line Online | The Tiger Hi-Line | Matthew Walsh |
| Online | Multimedia story - News | 1st | Cedar Falls HS | The Implications of School Choice | The Tiger Hi-Line | Jaden Amjadi, Clare Rolinger |
| Online | Podcasting | 1st | Cedar Falls HS | Drops Mic | The Tiger Hi-Line | Jaden Amjadi |
| Online | Social Media | 1st | Pleasant Valley | Spartan Shield Online | Spartan Shield | Staff |
| Online | Video story | Honorable Mention | Pleasant Valley | Another way to trick-or-treat | Spartan Shield | Jenna Ruccolo |
| Online | Web Design | 2nd | Pleasant Valley | Spartan Shield Online | Spartan Shield | Staff |
| Online | Multimedia story - News | 3rd | Pleasant Valley | 2017 Year in Review | Spartan Shield | Staff |
| Online | Podcasting | Honorable Mention | Cedar Falls HS | DIY/ Bella | The Tiger Hi-Line | Bella Schlarmann |
| Photo | Sports Photo | Honorable Mention | Cedar Falls HS | Taking Down East | The Tiger Hi-Line | Bella Schlarmann |
| Photo | Feature Photo | 2nd | Cedar Falls HS | Trumpet Player | The Tiger Hi-Line | Delaney Tate |
| Photo | Sports Photo | 2nd | Pleasant Valley | Boys basketball | Spartan Shield | Staff |
| Photo | Photo Story | 3rd | Cedar Falls HS | Volleyball Champions | The Tiger Hi-Line | Bella Schlarmann |
| Photo | News Photo | 3rd | Cedar Falls HS | Timberlake Singalong | The Tiger Hi-Line | Bella Schlarmann |
| Photo | Sports Photo | 3rd | Cedar Falls HS | Playoff Jam | The Tiger Hi-Line | Katie Crow |
| Photo | Photo Story | 2nd | Des Moines North HS | Shrek: The Musical | The Oracle | Jasmine Inthabounh |
| Photo | Feature Photo | 1st | Cedar Falls HS | Comparison of Nitrates | The Tiger Hi-Line | Sabine Martin |
| Photo | Photo Story | 1st | Cedar Falls HS | After Prom | The Tiger Hi-Line | Bella Schlarmann |
| Photo | News Photo | Honorable Mention | Davenport Central HS | Cover by Banyan DeMarr | The Blackhawk | Banyan DeMarr |
| Photo | News Photo | 1st | Cedar Falls HS | Gun Protest | The Tiger Hi-Line | Sophia Schillinger |
| Photo | Sports Photo | 1st | Cedar Falls HS | State VB Champs | The Tiger Hi-Line | Bella Schlarmann |
| Photo | Feature Photo | Honorable Mention | Cedar Falls HS | Grace portrait | The Tiger Hi-Line | Delaney Tate |
| Photo | Photo Story | Honorable Mention | Cedar Falls HS | Marching Band | The Tiger Hi-Line | Elise Leasure |
| Photo | Feature Photo | 3rd | George Washington HS | February Cover | The Surveyor | Gabriel Greco |
| Photo | News Photo | 2nd | Cedar Falls HS | Trunk or Treat Maze Surprise | The Tiger Hi-Line | Rachel Schmid |
| Writing | Staff Editorial | 2nd | George Washington HS | African-American Class Not So Lit | The Surveyor | Araya Dunne |
| Writing | Sports Story | 2nd | George Washington HS | Homesick Hockey Players | The Surveyor | Becca Turnis |
| Writing | In-Depth News | 3rd | George Washington HS | Iowa BIG Feature | The Surveyor | Sarah Altemeier |
| Writing | Feature Story | 2nd | Cedar Falls HS | As studies show cell phone anxiety rising for teens, sophomore chooses to hang up on smart phone use | The Tiger Hi-Line | Sabine Martin |
| Writing | In-Depth News | 2nd | Cedar Falls HS | Increasing nitrate levels threatening drinking water from three of Cedar Falls' eight public utility wells | The Tiger Hi-Line | Sabine Martin, Elise Leasure, Katie Mauss |
| Writing | Feature Story | Honorable Mention | Hoover HS | Managing High School and a Job | The Challenger | Ruth Acolatse |
| Writing | Sports Story | 3rd | Pleasant Valley | Ticket punched | Spartan Shield | Cami Hunter |
| Writing | News Story | 2nd | Cedar Falls HS | Peet eighth grader building connections to help others enjoy afterschool activities | The Tiger Hi-Line | Alayna Yates |
| Writing | Column | 3rd | Cedar Falls HS | Funding our Futures: Voucher bill would undermine effectiveness of public schools | The Tiger Hi-Line | Sabine Martin |
| Writing | Feature Story | 1st | Cedar Falls HS | Car Crash Provides student with New Perspective on Life | The Tiger Hi-Line | Clare Rolinger |
| Writing | In-Depth News | 1st | Cedar Falls HS | Health Deficit: Mental Health Resources Available for Students Dwindling in Iowa | The Tiger Hi-Line | Sophia Schillinger, Tehya Tournier |
| Writing | Personality Profile | 1st | Des Moines North HS | Addison Masters: From Custodial Artist to History Teacher | The Oracle | Caleb Slater |
| Writing | Personality Profile | 3rd | Des Moines North HS | Home Is Where The Heart Is: Alumnus Dartanyan Brown Reconnects with the youth of North High | The Oracle | Yer Lee |
| Writing | News Story | 1st | Cedar Falls HS | Elise Leasure | The Tiger Hi-Line | Elise Leasure |
| Writing | Sports Story | 1st | Cedar Falls HS | Top Shot: Green sets school scoring record in victory over Iowa City West | The Tiger Hi-Line | Tehya Tournier |
| Writing | In-Depth News | Honorable Mention | Cedar Falls HS | Standing for the Silent: MVP attends presentation on suicide prevention | The Tiger Hi-Line | Tehya Tournier |
| Writing | Column | Honorable Mention | Cedar Falls HS | Iowa's ag-gag laws infringe on First Amendment rights | The Tiger Hi-Line | Elise Leasure |
| Writing | Personality Profile | Honorable Mention | Cedar Falls HS | Math teacher retiring, but hopes 'Green' footprint will linger | The Tiger Hi-Line | Sophia Schillinger |
| Writing | Column | 1st | George Washington HS | Bathroom Pass? I'll pass. | The Surveyor | Sydney Dusek |
| Writing | News Story | Honorable Mention | George Washington HS | Las Vegas Shooting | The Surveyor | Sydney Dusek |
| Writing | Sports Story | Honorable Mention | George Washington HS | Running Ragnar | The Surveyor | Lars Andersland |
| Writing | Column | 2nd | George Washington HS | PE Waiver Policy | The Surveyor | Sydney Dusek |
| Writing | Staff Editorial | 1st | Pleasant Valley | "I am the one in 10" | Spartan Shield | Staff |
| Writing | Staff Editorial | Honorable Mention | Pleasant Valley | The importance of DREAMs | Spartan Shield | Anna Banerjee |
| Writing | Feature Story | 3rd | Pleasant Valley | One month later: Remembering Jered Wilson | Spartan Shield | Keshav Wagle, Caleb Arnold, Callum Revell |
| Writing | Staff Editorial | 3rd | Pleasant Valley | We are the change | Spartan Shield | Staff |
| Writing | News Story | 3rd | Pleasant Valley | PV students volunteer at Kids Against Hunger | Spartan Shield | Rebecca Abdullah |
| Writing | Personality Profile | 2nd | Cedar Falls HS | Home Runner: Retired Holmes principal writes book highlighting path to victory | The Tiger Hi-Line | Tehya Tournier |