Scholars 2022
The IHSPA is honoring 17 upcoming graduates as 2022 Scholars.
The IHSPA Scholar is an academic honor for the state's top journalism students. This recognition awards students with a certificate and a pin to wear at graduation.
Requirements
• Minimum 3 semesters of journalism in high school. The final semester of senior year can count toward the three semesters.
• Minimum 3.0 cumulative high school GPA at time of application.
• 5 hours of community service, approved by the adviser. This requirement is included in the spirit of journalists serving the communities in which they live. It is the adviser's decision on what counts as community service.
• A 500-word essay by the student explaining lessons they've learned as a high school journalist.
• The school attended by the nominee must be in good IHSPA membership standing.
Students do not need to have declared a college journalism major to qualify.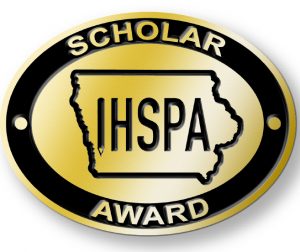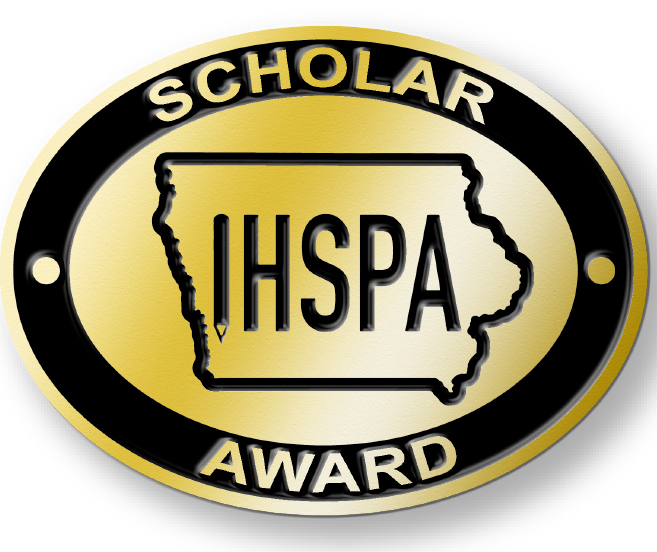 | First name | Last name | School | City |
| --- | --- | --- | --- |
| Ariana | Aponte | Northwest High School | Waukee |
| Marisol | Argueta-Hernandez | Des Moines East | Des Moines |
| McKenna | Dolphin | Des Moines East | Des Moines |
| Callie | Garcia | Hoover High School | Des Moines |
| Lilly | Johns | Hoover High School | Des Moines |
| Sage | Johnson | Hoover High School | Des Moines |
| Hanah | Kitamoto | Iowa City West High School | Iowa City |
| Isabella | Lopez | Des Moines East | Des Moines |
| Caroline | Mascardo | Iowa City West High School | Iowa City |
| Carolina | Mendoza-Medrano | Des Moines East High School | Des Moines |
| Emily | Rundell | Clear Creek Amana High School | Tiffin |
| Madison | Serovy | Clear Creek Amana | North Liberty |
| Julia | Stuart | Theodore Roosevelt High School | Des Moines |
| Colson | Thayer | Northwest High School | Waukee |
| Ethan | Udrovich | Theodore Roosevelt High School | Des Moines |
| Charles | Walker | Hoover High School | Des Moines |
| Becca | Youngers | Dowling Catholic High School | West Des Moines |