What (and who) to expect at the 2015 Fall Conference
The 2015 Fall Conference is right around the corner! We are welcoming speakers from high schools around Iowa, local newspapers and TV stations, the University of Iowa and yearbook companies. The speakers are coming to you from as close as the UI, Drake University and Simpson College and from as far as Minnesota and Texas.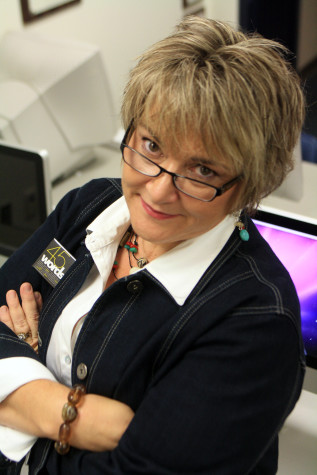 Lori Oglesbee will be giving the keynote talk, focusing how you can make a great final product, not just get it done.
Oglesbee, MJE, entered the classroom for the 33rd time this year to advise a yearbook. She loves the collaborative and creative learning it takes to produce the nationally recognized McKinney High School Lion, which has won every national award multiple times. In 2009, she was named JEA's National Yearbook Adviser of the Year. Other awards hang on her wall, but the ones that mean the most are the ones students have won.
Throughout the day, there will be sessions on photojournalism, how to capture your Yearbook audience, storytelling in a digital age and more. Check out all the sessions and their descriptions below.
What not to wear in your yearbook
We'll look at how a new wardrobe can make your yearbook look and feel better.
Lori Oglesbee, McKinney HS
Dunk the deadlines
Using your noodles, marbles & more to keep your staff energized and unified, participate in team building activities and share yours with all in attendance.
Betty Christian, Davenport North HS
10 Tools For Your Editing Toolbox
Whether you're a copy editor, section editor, media producer, social media editor or editor-in-chief, there are tools any editor can use to help produce the best possible yearbook, website, social media blast, video or newspaper. This session will focus on tools to successfully edit content and lead your staff.
Vanessa Shelton, Quill and Scroll
Twitter for our publications
Joann Gage, Mount Vernon HS
Manual Mode Simplified
Learn how to make your DSLR take the photos YOU want it to take! Learning the three main settings of manual mode will completely change how you take photographs and give you the creative power. In this class, you will learn the basics of manual mode in simplistic terms and at a slow pace. Once you learn how to shoot manual mode, you will have the knowledge to photograph any subject in any location! Want to learn how to freeze your sports photos? Want to know how to achieve the beautiful blurry backgrounds? Want to know how to make your pop up flash stop popping up all of the time? Then this class is for you!
Natalie McDermott, Davenport West HS
Creative collaboration behind the camera
KCRG-TV9 reporter Sarah McCarthy and news photographer Tanner Siegworth share how the two work together to find the story behind the facts and chase down the visually compelling pieces needed to capture a TV audience. Sarah and Tanner are both recent University of Iowa graduates just beginning their careers in television news.
Sarah McCarthy & Tanner Siegworth, KCRG-TV9
Transitioning from high school to college journalism
Megan Sanchez, University of Iowa
5 Steps of Revision
There's two types of writers: good writer and quitters. If your writing isn't good enough, you quit before it was. Follow these steps to be a better writer. This session will change your life. I promise.
Lori Oglesbee, McKinney HS
Managing an Online Newsroom
Kari Koshiol, School Newspapers Online
How to be awesome
Storytelling that matters in the digital age.
Jonathan Rogers, City HS
Iowa Overview: The Hawkeye Way
Learn more about the opportunities that await you at the University of Iowa. The UI is a top 30 public university, offering over 200 areas of study in several highly ranked programs. Students at the UI have access to the resources of a Big Ten institution while still receiving the individualized attention that comes along with the UI's close-knit campus. In this presentation you'll also hear from current students about how to get involved at Iowa and why it's so great to be a Hawkeye!
UI Admissions
Podcasting 101
Kyle Philips, CR Washington
Today's journalist
Are today's journalists different from past generations? Tools you need to succeed.
J.R. Ogden, The Gazette
Let's get yerdy — student editor panel
How to submit 300 pages in under 7 months and survive.
Natalie Nemeyer & East HS Yearbook editors
Satire: Humor with a purpose
Satire takes quick wit to expose the absurdity in the world around us.
Lori Oglesbee, McKinney HS
50 Tips to Improve Your Website
Kari Koshiol, School Newspapers Online
Smart Phonography
This session will help you develop your skills as a photographer using only your cell phone. The cell phone camera has drastically changed the world of photography. Anyone with a phone has the ability to shoot, edit and transmit photos around the entire world (and space!). Professional photographers are using their phones in situations that may be more challenging with a large-bodied camera while others are using Instagram and various forms of social media to create online portfolios to seek jobs and freelance opportunities. We will focus on building up your arsenal of photography tools to help you create unique, thoughtful images.
David Scrivner, Iowa City Press Citizen
How you can go deep and amaze your readers
You know the people who always seem to know things, right? You can be that person AND let people in on what you know in your school newspaper but you have to go deep to have an impact. This session will show you how, and why you should want to do this.
Lyle Muller, IowaWatch.org
Stop the Presses! There is a Future in Journalism
Journalism is a field that's undergoing fundamental disruption and change, but there are huge opportunities for young people who want to study and make a career in providing the public with information. We'll talk about ways you can best prepare for a career in journalism, along with the diverse opportunities that studying journalism in college can provide.
Brian Steffen, Simpson College
Yearbook Trends
Design trends yearly. Something that seems hot now may not be cool when the book is distributed. Learn how to decide which trends will help tell your story in a fresh way.
Amanda Tillery, Jim Straub, Courtney Kokjohn, Brad Hempstead
, Walsworth Yearbook
Startup tactics applied
Jon Myers, former online editor for The Little Hawk and current startup founder, teaches you how the lean startup approach and effective startup tactics can help your newspaper to become a relevant and engaging platform for high school students to receive news.
Jon Myers, Spectator
It is nothing without great photography
Great photos are what draw readers to a page. Give the photography the attention it deserves.
Lori Oglesbee, McKinney HS
More Than a Story
Kari Koshiol, School Newspapers Online
How to avoid the photo bomb
Creating compelling photos that tell the story of your school.
Liz Martin, The Gazette
How high school publications can use Snapchat to reach their audience
Chris Snider, Drake University
How to run a newspaper staff — Q&A
Panel, Johnston High School
Basics of Iowa Student Press Law
Tyler J. Buller, Assistant Iowa Attorney General & Student-Press Advocate
Emojis vs. Emoting?
How social media is changing communication — we will examine how social media may be stunting our emotions and changing the way we talk to each other.
Kajsa E. Dalrymple, University of Iowa SJMC
Tours of The Daily Iowan & Adler Journalism Building
Adviser pep talk
Visit with veteran advisers Ann Viser and Gary Lindsay.
Ann Visser & Gary Lindsay, JEA Mentor
The Fall Conference this year is Thursday, Oct. 29 in the Iowa Memorial Union.
Registration begins at 8 a.m.
Opening ceremonies at 9 a.m.
The conference concludes at 2:30 p.m.
It's not too late to sign up! The registration deadline is October 23 but space is limited so sign up here.