2018 Spring Journalism Contest Results – Class A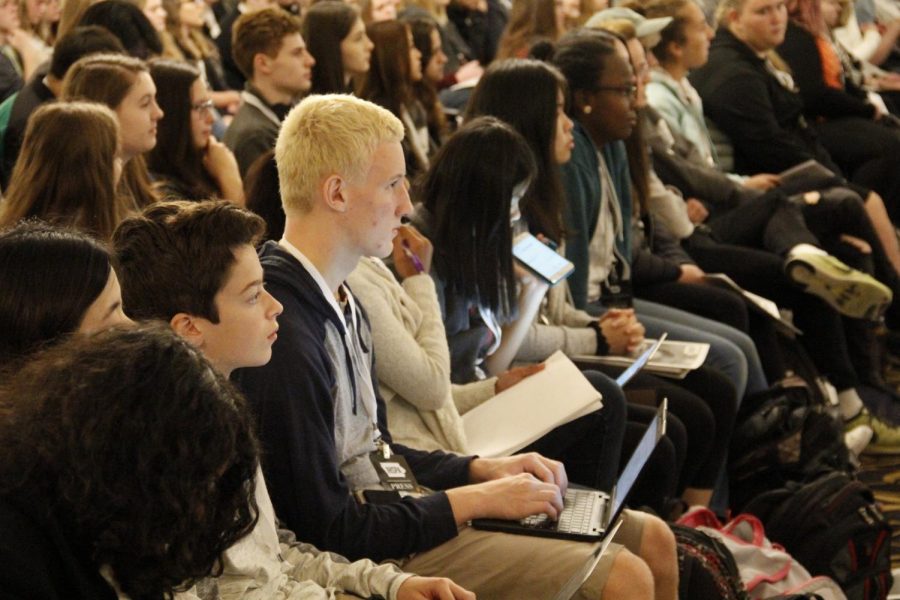 The 2018 Spring Journalism Contests have closed, and the points have been tallied.
The results for First Place, Second Place, Third Place, and Honorable Mentions for Class A publications are listed below!
Check back next week to see the News Team of the Year Finalists for all classes.
| Division | Category | Award | School | Entry Title | Publication | Credits |
| --- | --- | --- | --- | --- | --- | --- |
| Design | Editorial Cartoon/comic strip | Honorable Mention | Mount Vernon HS | School Should Subsidize Cost of Gas | The Mustang Moon | John Butz |
| Design | Infographic | Honorable Mention | Mount Vernon HS | Drew Adams: Touchdown King | The Mustang Moon | Garrett Hormann |
| Design | Newspaper - One Page Design | Honorable Mention | Pella Community HS | Page 2 Current | Pelladium | Allison Clark |
| Design | Newspaper - One Page Design | 1st | Chariton HS | On to StaOn to Statete | Charger Ink | Isaiah Tuigong |
| Design | Newspaper - One Page Design | 2nd | Chariton HS | One Incredible Career | Charger Ink | Isaiah Tuigong |
| Design | Editorial Cartoon/comic strip | 2nd | Chariton HS | Every Bad Comes With a Good | Charger Ink | Jackson Fisher |
| Design | Newspaper - One Page Design | 3rd | Chariton HS | Old Enough to Serve, Old Enough to Drink | Charger Ink | Will Exline, Brooklyn Nichols |
| Design | Editorial Cartoon/comic strip | 1st | Pella Community HS | North Pole | Pelladium | Elizabeth Van Weelden |
| Design | News Magazine - One Page Design | 1st | HudsonHS | Page 7/Entertainment February 2018 | The Pirate Press | Katelyn Pint, Grace Jorgensen, Abby Lashbrook |
| Design | News Magazine - Multiple Page Design | 1st | HudsonHS | Taboos | The Pirate Press | Abby Lashbrook |
| Design | Illustration or Art | 1st | HudsonHS | Digital Dependency | The Pirate Press | Aubrey Gronoski, Sophie Selenke |
| Design | Infographic | 1st | HudsonHS | More Than A Black & White Issue | The Pirate Press | Abby Lashbrook, Alex Klingfus, Hailey Elder |
| Design | Infographic | 2nd | West Delaware HS | Senior Spotlight | Inklings | Madalynn Burke |
| Design | News Magazine - Multiple Page Design | Honorable Mention | HudsonHS | More Than A Black And White Issue | The Pirate Press | Abby Lashbrook |
| Design | News Magazine - One Page Design | 2nd | HudsonHS | Page 6/Opinion December 2017 | The Pirate Press | Abby Gaudian, Abby Lashbrook |
| Design | News Magazine - Multiple Page Design | 2nd | HudsonHS | The Dating Game | The Pirate Press | Abby Lashbrook |
| Design | Illustration or Art | 2nd | HudsonHS | Inked with Intention | The Pirate Press | Grace Jorgensen |
| Design | News Magazine - One Page Design | 3rd | HudsonHS | Page 7/Entertainment October 2017 | The Pirate Press | Katelyn Pint |
| Design | Editorial Cartoon/comic strip | 3rd | HudsonHS | Dress Code Discrepency | The Pirate Press | Kacie Herring |
| Design | News Magazine - Multiple Page Design | 3rd | HudsonHS | Life Hacks | The Pirate Press | Abby Lashbrook |
| Design | Illustration or Art | 3rd | HudsonHS | Class of Seventeen | The Pirate Press | Olivia Kolterman |
| Design | Infographic | 3rd | HudsonHS | Digital Dependency | The Pirate Press | Abby Lashbrook, Alex Klingfus |
| Design | Newspaper - Multiple page Design | 1st | Pella Community HS | In Focus | Pelladium | Tiffany Van Gilst |
| Design | Illustration or Art | Honorable Mention | Mount Vernon HS | Artist Practices Perfection | The Mustang Moon | Maggie Lynott |
| Design | News Magazine - One Page Design | Honorable Mention | HudsonHS | Page 2/News October 2017 | The Pirate Press | Grace Schwenneker, Abby Lashbrook |
| Online | Podcasting | Honorable Mention | Atlantic HS | Told By The Black And Gold: Wal-Mart Stories | Needle | Elija Deets, Jordan Zarbano |
| Online | Social Media | Honorable Mention | Atlantic HS | AHSneedle Social Media | Needle | Staff |
| Online | Photo Slideshow | Honorable Mention | Atlantic HS | Basketball Photos by Reagan Pellett | Needle | Reagan Pellett |
| Online | Podcasting | 2nd | Atlantic HS | Told By the Black and Gold Ep. 1 First Times | Needle | Elija Deets, Jordan Zarbano |
| Online | Photo Slideshow | 2nd | Atlantic HS | Sheltered Reality | Needle | Abbey Bishop |
| Online | Photo Slideshow | 3rd | Atlantic HS | Iowa City Through the Eyes of Kayla Mauk | Needle | Kayla Mauk |
| Online | Social Media | 2nd | West Delaware HS | Social Media | Inklings | Maddie Burke |
| Online | Web Design | 2nd | West Delaware HS | Web Design | Inklings | Tyler Salow |
| Online | Web Design | Honorable Mention | HudsonHS | @HudPiratePress Web Page | The Pirate Press | Caleb McCullough, Alex Klingfus |
| Online | Multimedia story - Sports | Honorable Mention | HudsonHS | Boys Basketball vs Don Bosco | The Pirate Press | Sophie Selenke, Caleb McCullough |
| Online | Social Media | 3rd | HudsonHS | @HudPiratePress Twitter Feed | The Pirate Press | Caleb McCullough, Grace Jorgensen |
| Online | Podcasting | 1st | Atlantic HS | Told By The Black And Gold: #3 Sports/Winning Moments | Needle | Elija Deets, Jordan Zarbano |
| Online | Podcasting | 3rd | North Cedar HS | Knight News Week #12 | The Scroll | Brittyn Wilhau, David James Stull |
| Online | Multimedia story - News | Honorable Mention | North Cedar HS | Oz the Great and Powerful | The Scroll | Breylee St. John |
| Online | Multimedia story - Sports | 3rd | Mount Vernon HS | Coach Vance Light: Iowa Wrestling Hall of Fame | The Mustang Moon | Caitlin Babcock, Mattie Hansen, Lauren Hauser, Reagan Light, Kendra Streicher |
| Online | Web Design | 3rd | Mount Vernon HS | Web design | The Mustang Moon | Paige Zaruba |
| Online | Multimedia story - News | 3rd | Mount Vernon HS | Choir at King Chapel | The Mustang Moon | Preston Shultz |
| Online | Multimedia story - Feature | 3rd | Mount Vernon HS | Mount Vernon Students Collaborate on Art Wall | The Mustang Moon | Grace Pisarik, Grace McCollum, Laurel Sherman, Mason Reilly, Brittney Darrow |
| Online | Video story | 3rd | Mount Vernon HS | Tristan Wirfs: Mustang to Hawkeye Football Player | The Mustang Moon | Drew Adams, Nick Leopold, Casey Noska, Max Siders, Garrett Welch |
| Online | Multimedia story - Sports | 2nd | Mount Vernon HS | Shirley Ryan: Mount Vernon Head Coach 1972-2010 | The Mustang Moon | Caroline Voss, Catherine Yeoman, Lauren Hauser, Kendra Streicher, Caitlin Babcock |
| Online | Multimedia story - News | 2nd | Mount Vernon HS | CARE Conference Turns MLK Holiday into an Opportunity for Understanding | The Mustang Moon | Abby Davidson, Garrett Welch, Drew Adams, Emma Klinkhammer |
| Online | Multimedia story - Feature | 2nd | Mount Vernon HS | An Iowa Tradition: 6-on-6 Womenís Basketball | The Mustang Moon | Jace Delancey, Sam Stoner, Megan Zobac, Paige Emig, Kailey Shannon |
| Online | Video story | 2nd | Mount Vernon HS | Logan Kelly: Champion Archer | The Mustang Moon | Cooper Becthold, Nolan Brand, Garrett Horrman, Thomas Meineke |
| Online | Multimedia story - Sports | 1st | Mount Vernon HS | Tristan Wirfs Ranks 2nd in Iowa Shot Put History | The Mustang Moon | Mason Reilly, Kaylia Wirfs, Jack Young |
| Online | Web Design | 1st | Atlantic HS | AHSneedle.com | Needle | Ashley Wendt, Erin Wendt |
| Online | Photo Slideshow | 1st | Atlantic HS | Wrestling Photos by Reagan Pellett | Needle | Reagan Pellett |
| Online | Video story | Honorable Mention | Atlantic HS | Memes of 2017 | Needle | Noah Rutherford, Marcus Duranceau, Brandon Woodard |
| Online | Video story | 1st | Mount Vernon HS | Drew Adams: Touchdown King | The Mustang Moon | Cooper Bechtold, Nolan Brand, Garrett Horrman, Logan Kelly, Thomas Meineke |
| Online | Multimedia story - Feature | 1st | Mount Vernon HS | An Unforgettable Season: A Look Back at the 2012 State Champ Team | The Mustang Moon | Drew Adams, Nick Leopold, Casey Noska, Max Siders, Garrett Welch |
| Online | Multimedia story - News | 1st | Mount Vernon HS | Chalk the Chalk the Walk 2017Walk 2017 | The Mustang Moon | Katy Bellamy, Alina Merlak, Blaine Schumacher |
| Online | Social Media | 1st | Mount Vernon HS | Social MSocial Mediaedia | The Mustang Moon | Staff |
| Photo | Feature Photo | 3rd | West Delaware HS | Musical Mishaps | Inklings | Emily Klostermann |
| Photo | Feature Photo | Honorable Mention | HudsonHS | Concussion Feature Cover | The Pirate Press | Hailey Elder |
| Photo | Feature Photo | 2nd | HudsonHS | Peek Feature Cover | The Pirate Press | Hailey Elder |
| Photo | Sports Photo | Honorable Mention | Mount Vernon HS | Playing with intensity | The Mustang Moon | Catherine Yeoman |
| Photo | Photo Story | 2nd | Mount Vernon HS | Mustang Football Dominates Over Anamosa in 49-0 Win | The Mustang Moon | Paige Zaruba |
| Photo | News Photo | 3rd | Mount Vernon HS | A Star in the Making | The Mustang Moon | Sydney Hauser |
| Photo | Sports Photo | 3rd | Mount Vernon HS | Celebrating a win | The Mustang Moon | Preston Shultz |
| Photo | Photo Story | 3rd | Mount Vernon HS | Homecoming King and Queen are Revealed | The Mustang Moon | Paige Zaruba, Lauren McCollum, Elijah Recalde |
| Photo | News Photo | 2nd | HudsonHS | Model UN Boys | The Pirate Press | Katelyn Pint |
| Photo | News Photo | 1st | HudsonHS | NHS Food Drive | The Pirate Press | Hailey Elder |
| Photo | Feature Photo | 1st | HudsonHS | Digital Dependency Feature Cover | The Pirate Press | Aubrey Gronoski |
| Photo | News Photo | Honorable Mention | Atlantic HS | Math in Motion | Needle | Mariah Cook |
| Photo | Sports Photo | 1st | Atlantic HS | Carried to Victory | Needle | Kylie Proehl |
| Photo | Photo Story | 1st | West Delaware HS | Posting with a Passion | Inklings | JoAnna Voss, Hannah Wenger |
| Photo | Photo Story | Honorable Mention | West Delaware HS | Students Perform at All-State and Senior Large Group Showcase | Inklings | Emily Klostermann |
| Photo | Sports Photo | 2nd | West Delaware HS | Starting the Season Off Strong | Inklings | JoAnna Voss |
| Writing | Personality Profile | 3rd | HudsonHS | Inked With Intention | The Pirate Press | Grace Jorgensen |
| Writing | News Story | 1st | Mount Vernon HS | Fundraising Fail | The Mustang Moon | Maggie Dale |
| Writing | In-Depth News | Honorable Mention | Mount Vernon HS | Dawa Journeys into Art for Inspiration | The Mustang Moon | Blaine Schumacher |
| Writing | Personality Profile | Honorable Mention | Mount Vernon HS | Playing with Purpose | The Mustang Moon | Grace McCollum |
| Writing | News Story | Honorable Mention | Mount Vernon HS | Sophomores March for Unity | The Mustang Moon | Maddie Naeve |
| Writing | In-Depth News | 2nd | Mount Vernon HS | Influential Teachers in Mount Vernon | The Mustang Moon | Grace Pisarik |
| Writing | In-Depth News | 3rd | HudsonHS | Lasting Legacy | The Pirate Press | Grace Schwenneker, Sophie Selenke |
| Writing | Column | 3rd | Mount Vernon HS | MTSS Check-in: The School's Prison | The Mustang Moon | Blaine Schumacher |
| Writing | Staff Editorial | 3rd | Mount Vernon HS | MTSS: Academics Should Be a Priority | The Mustang Moon | Catherine Yeoman |
| Writing | Sports Story | 3rd | West Delaware HS | Little Changes, Big Differences | Inklings | Isabelle Willey |
| Writing | Personality Profile | 2nd | HudsonHS | H2-Oh! | The Pirate Press | Payton Sherwood |
| Writing | Feature Story | 1st | North Cedar HS | North Cedar's Carla Green a dedicated educator, farmer | The Scroll | Makayla Schluter |
| Writing | Feature Story | 2nd | HudsonHS | Heads Up | The Pirate Press | Grace Jorgensen |
| Writing | Sports Story | 2nd | Chariton HS | Girls Taking Over | Charger Ink | Mark Ilyenko, Carson Rector |
| Writing | News Story | 2nd | Atlantic HS | AHS Debates Removal of Controversial Items in the Yearbook | Needle | Hana Holtz |
| Writing | Column | 2nd | Pella Community HS | A Dime for Your Time | Pelladium | Harley Atchison |
| Writing | Sports Story | Honorable Mention | Atlantic HS | Meet a State Champ: John McConkey | Needle | Erin Wendt, Ashley Wendt |
| Writing | Feature Story | Honorable Mention | HudsonHS | Radical Rewind | The Pirate Press | Olivia Kolterman |
| Writing | Sports Story | 1st | HudsonHS | Student athletes weight risks of concussions | The Pirate Press | Grace Jorgensen |
| Writing | Staff Editorial | 1st | HudsonHS | More Than College Bound | The Pirate Press | Caleb McCullough |
| Writing | In-Depth News | 1st | HudsonHS | The Change Up | The Pirate Press | Sophie Selenke, Alex Klingfus |
| Writing | Column | 1st | Mount Vernon HS | School Should Subsidize Cost of Gas | The Mustang Moon | John Butz |
| Writing | Personality Profile | 1st | Mount Vernon HS | English Teacher Interested in Stand-Up Comedy and Poetry | The Mustang Moon | Lauren McCollum |
| Writing | Column | Honorable Mention | West Delaware HS | Huntin' Like a Boss | Inklings | Elijah Hill |
| Writing | Staff Editorial | Honorable Mention | West Delaware HS | Why Join FFA? | Inklings | Leah Philipp |
| Writing | Feature Story | 3rd | West Delaware HS | Speech Students Take their Improv Skills to the Public | Inklings | Tyler Salow |
| Writing | News Story | 3rd | West Delaware HS | Prevent and Protect: Scabies Outbreak Calls for Extra Precaution | Inklings | Andrea Salow |
| Writing | Staff Editorial | 2nd | Mount Vernon HS | We Must Teach Understanding | The Mustang Moon | Alina Merlak |