Maresca named Iowa Journalist of the Year 2019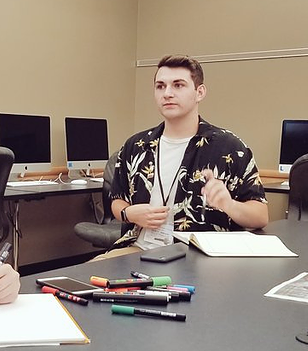 The 2019 Iowa Journalist of the Year is Andrew Maresca, a senior at Johnston High School. He receives a $500 award, supported by the Iowa Newspaper Foundation in partnership with IHSPA, and a trophy.
In addition to the financial award and trophy, Maresca may also enter the national Journalism Education Association (JEA) Journalist of the Year competition as the state JOY winner.
Maresca's winning portfolio can be found here.
He showed complete awareness of modern-day, relevant journalism with his story selection, writing, editing and leadership. He showed particular strength in design and entrepreneurship. Newsroom leaders in today's journalism environment, and in the years ahead, need to understand revenue sources and his identification of that need can serve him well in the future. Andrew showed that, under his leadership, his newspaper has been on top of newsworthy events at his school and has given voice to its audience.
Seven Iowa high school journalists enter the competition this year.
The second place for this year's contest came from Anjali Huynhi from Iowa City West High School. Huynhi's writing, editing and leadership appeared to be especially strong. She brought a complete portfolio to the competition that can be seen here.
Third place was awarded to Lily Williams from Pleasant Valley High School. Williams showed strong leadership skills and an enterprising spirit. She also showed good work digging into records to confront the National Rifle Association and school district over a donation the NRA gave the district for a pistol shooting class. Her portfolio can be found here.
Each year, one talented Iowa high school journalist is honored by IHSPA as the Iowa Journalist of the Year, based on a submitted online portfolio highlighting that journalists most impressive work from the year. The winner is eligible to compete in JEA's National Journalist of the Year competition.
Congratulations to Andrew Maresca! Good luck in the national JEA competition!