News Team Point totals 2019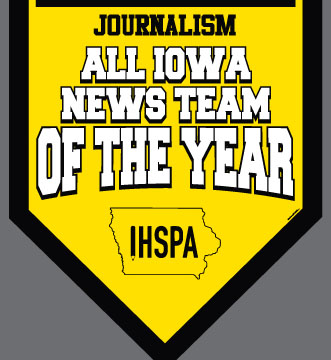 The 2019 Spring Journalism Contest saw an incredible group of entries from schools across the state.
A total of 23 schools competed for News Team of the Year across all three class sizes of schools — Class A, Class B, Class C. For each class, the top five scores from each class are listed below as News Team of the Year Finalists.
Point values were determined by adding up scores from news entries that earned First Place, Second Place, Third Place, or Honorable Mention in their respective division and category.
News team point tallies
Class A
| | Points | |
| --- | --- | --- |
| HudsonHS | 151 | News Team Finalist |
| Mount Vernon HS | 106 | News Team Finalist |
| Atlantic HS | 73 | News Team Finalist |
| Xavier HS | 47 | News Team Finalist |
| West Delaware Inklings | 42 | News Team Finalist |
| St. Albert HS | 19 | |
| Pella Community HS | 12 | |
| PCMonroe | 8 | |
Class B
| | Points | |
| --- | --- | --- |
| Pleasant Valley | 174 | News Team Finalist |
| North HS (Des Moines) | 69 | News Team Finalist |
| George Washington HS | 46 | News Team Finalist |
| Lewis Central HS | 33 | News Team Finalist |
| Abraham Lincoln HS | 32 | News Team Finalist |
| Hoover HS | 26 | |
| Davenport Central HS | 20 | |
| Thomas Jefferson HS (CB) | 14 | |
Class C
| | Points | |
| --- | --- | --- |
| Iowa City West HS | 227 | News Team Finalist |
| Cedar Falls HS | 113 | News Team Finalist |
| Iowa City City HS | 112 | News Team Finalist |
| Johnston HS | 39 | News Team Finalist |
| Des Moines East HS | 22 | News Team Finalist |
| Davenport West HS | 11 | |
| Kennedy HS | 4 | |